Was watching this gun on Cowan's today but did not end up bidding on it. It seemed pretty unique. It sold for $2400. I had a friend who really really really wanted the cap container out of it.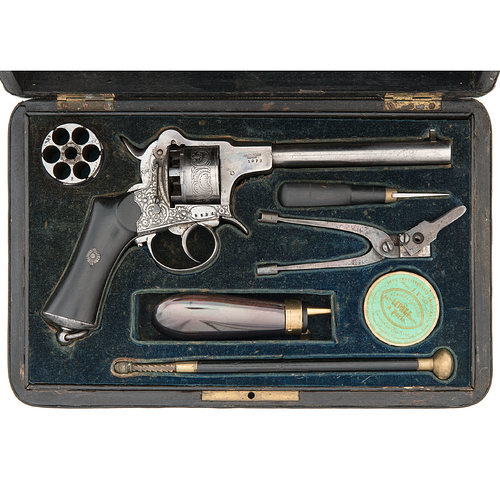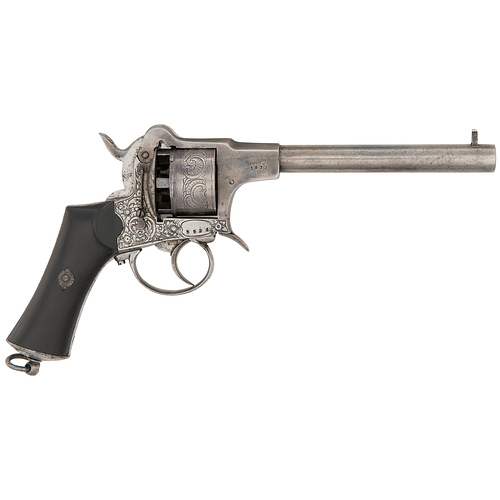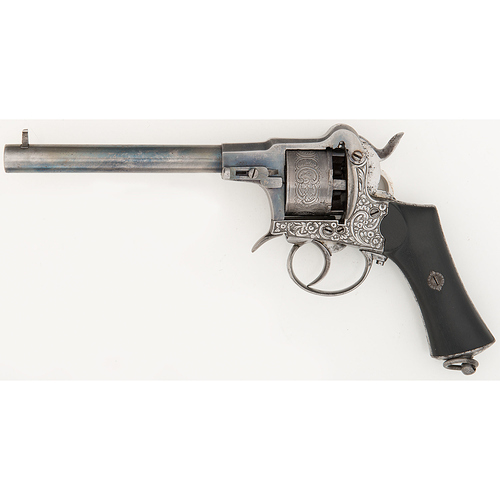 Their description was:
11mm caliber, 6.3125" barrel, S/N 9924 . Blued finish, ebony saw handled grip. Matching assembly number 1073 on right of barrel web and rear face of both cylinder. Right barrel web also marked JONGEN FRERES / BREVETE . Double-action, 6-shot revolver with both percussion and pinfire cylinders, with sliding safety on left front of barrel web that engages the cylinder mouth, preventing rotation. Jongen patent hinged frame with barrel and top strap tipping up for loading and unloading, released by a reversed trigger on the lower front of the frame. Frame and cylinders engraved with foliate themes and scrolls. Revolver is contained in a pebble grained leather covered wood case with dark blue velvet French fit interior. Casing includes a very fine lacquered copper powder flask, a fine blued combination single-cavity bullet mold, cone wrench and loading tool, an ebony cleaning rod with brass jag and grip, an ebony turn screw and a paper LePage marked cap container. The key for the casing is present as well. Jongen Freres worked in Liege, Belgium ca 1856-1873, receiving their revolver patent in 1863-64.

Condition:

Very good. Pistol cleaned to bright in the European fashion. Markings remain legible, with most of the engraving clear. Metal with some scattered pitting, pinfire cylinder with moderate patches of pitting from storage in its fitted compartment. Mechanically functional, fair bore with moderate to heavy pitting. Grip very good with scattered handling marks. Accessories all very good to fine. Casing with some wear, scuffing, minor mars and faded discoloration on the interior.