Bonjour à tous and hello everyone.
Here are two 12mm single action revolvers. Other than being rather well used and beat up, these two single action revolvers appear to be the same. The only difference in markings is that No. 23341 has a barrel marking of E. Lefaucheux as the inventor, while 28704 has no barrel marking at all.
When I bought these revolvers they were in poor condition and needed some repairs. While repairing them I discovered something interesting. The milled slot in the frame to admit the hammer, trigger etc is 7.1mm wide on No. 23341 but the milled stot of No. 28704 is 6.7mm wide. The width of the hammers and triggers are similarly different. For this reason, the parts are not interchangeable from one revolver to the other. I'm not sure if this difference is significant or not but I thought it was interesting, and so here it is for discussion.
I would like to thank Mr. Lefaucheux who has provided some information in a message as to the vintage of these revolvers (1861). I look forward to any additional information as to the destination of these two old soldiers when they were shinny and new.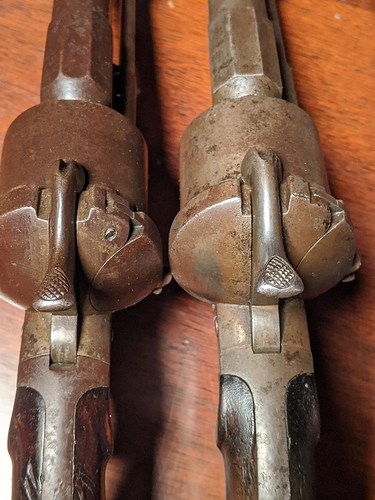 Thank you in advance.
Greg